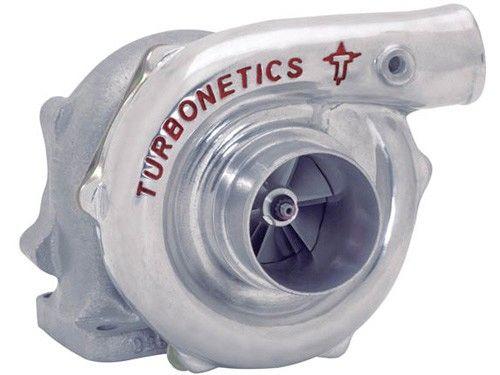 Turbonetics T04E-50 F1-57 .48 AR Thrust Bearing Turbocharger
SKU: 0B808 | MPN: 11019
---
The T3/T4 Hybrid turbochargers consist of a T3 turbine section, (F1-49, F1-54, F1-57, F1-62) and a T4 compressor section (T04B trim, T04E trim & 60-Series). This combination offers the low inertia and fast boost response of the lightweight T3 turbine wheel and the high-airflow characteristics of the T4 compressor family.

All T3/T4 Hybrid Turbochargers are available with the patented Ceramic Ball-Bearing option. The Ceramic Ball Bearing T3/T4 Hybrid series offers the fastest spool-up available. Coupled with extreme durability, the Ceramic Ball-Bearing concept provides the best available performance available in the turbocharging aftermarket. All T3/T4 Hybrids are custom matched for specific applications. Ranging from 200 HP to 600 HP.
Turbine wheels harness the hot exhaust gas energy for the turbocharger. All Turbonetics turbine wheels utilize 713C inconel for manufacturing. 713C inconel, a nickel-based super alloy is much stronger and has a higher temperature threshold than most other turbine wheel materials.
Turbonetics exclusive F1-series turbine wheels feature a new design with 10-bladed and tall tip height configuration to maximize the exhaust gas energy and keep backpressures low. Backpressure is the opposite of boost pressure. It is the pressure of the exhaust gas trying to get past the turbine wheel. When the backpressure is elevated it can prevent the turbocharger from continuing to make boost and deliver efficient air to the engine. The F1-series turbine wheels minimize backpressure to allow the most horsepower possible for a given wheel size.
Specs:
Power: 450 HP
Thrust Bearing
T04E-50 Compressor
F1-57 Turbine Wheel
.48 A/R
T3 Inlet
5 Bolt Outlet