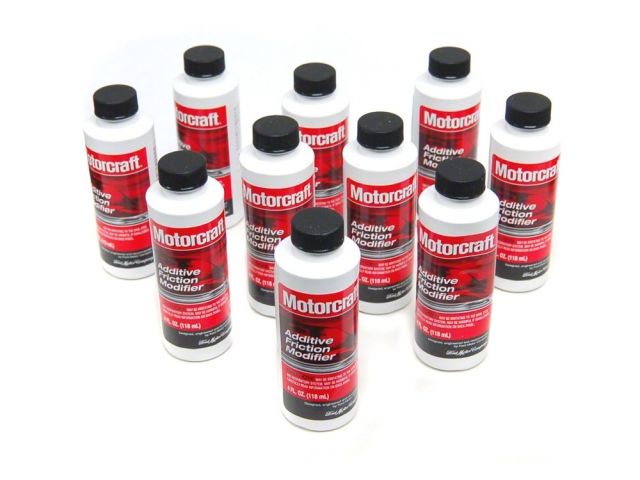 Motorcraft XL3 LSD Friction Modifier Gear Oil Additive
SKU: 07F5Q | MPN: XL-3
---
Motorcraft XL3 LSD Friction Modifier Gear Oil Additive
Specially formulated additive to provide smooth operation of clutch-type limited-slip differentials. This is a great alternative to the expensive Kaaz, Tomei, LSD oil. You can use it with any non-synthetic gear oil for your differential. Proven to work great for all clutch type LSD.
Add this 4 oz. bottle with non-sythentic gear oil.
* Price is per bottle. 1 bottle required for each oil change.
Vehicle Fitments:
| Year | Make | Model | Submodel |
| --- | --- | --- | --- |
| 2006 - 2008 | Ford | Crown Victoria | Fleet |
| 2002 - 2008 | Ford | Crown Victoria | LWB |
| 2004 - 2006 | Ford | Crown Victoria | LX Sport |
| 1996 - 2008 | Ford | Crown Victoria | LX, Base, Police Interceptor |
| 1996 - 2004 | Ford | Crown Victoria | S |
| 2003 - 2004 | Ford | E-150 | Base, XL |
| 2003 - 2004 | Ford | E-150 Club Wagon | XL, Chateau, XLT |
| 1997 - 2002 | Ford | E-150 Econoline | Base |
| 1997 - 2000 | Ford | E-150 Econoline | XL |
| 1997 - 2000 | Ford | E-150 Econoline Club Wagon | Custom |
| 2001 - 2002 | Ford | E-150 Econoline Club Wagon | XL |
| 1997 - 2002 | Ford | E-150 Econoline Club Wagon | XLT, Chateau |
| 2003 | Ford | E-250 | Base |
| 1997 - 2002 | Ford | E-250 Econoline | Base |
| 1997 - 2000 | Ford | E-250 Econoline | XL |
| 2003 - 2005 | Ford | E-350 Club Wagon | Chateau, XL, XLT |
| 1995 - 1998 | Ford | E-350 Econoline | XL, Base |
| 1995 - 1996 | Ford | E-350 Econoline Club Wagon | Chateau HD |
| 1995 - 2002 | Ford | E-350 Econoline Club Wagon | Chateau, XLT |
| 1995 - 2000 | Ford | E-350 Econoline Club Wagon | Custom |
| 2001 - 2002 | Ford | E-350 Econoline Club Wagon | XL |
| 1995 - 1998 | Ford | E-350 Econoline Club Wagon | XL HD, XLT HD |
| 2006 | Ford | E-350 Super Duty | Chateau |
| 1999 - 2012 | Ford | E-350 Super Duty | XL, Base |
| 2006 - 2012 | Ford | E-350 Super Duty | XLT |
| 2003 | Ford | Excursion | Eddie Bauer |
| 2000 - 2003 | Ford | Excursion | XLT, Limited |
| 2007 - 2008 | Ford | Expedition | EL XLT, Max Limited, EL Limited, EL Eddie Bauer, Eddie Bauer Max, Max Eddie Bauer |
| 2008 | Ford | Expedition | Funkmaster Flex Edition, EL King Ranch |
| 2005 - 2008 | Ford | Expedition | King Ranch, Limited |
| 2005 - 2006 | Ford | Expedition | XLS |
| 1997 | Ford | Expedition | XLT Plus |
| 2006 | Ford | Expedition | XLT Sport |
| 1997 - 2008 | Ford | Expedition | XLT, Eddie Bauer |
| 1999 - 2010 | Ford | Explorer | Limited, XLT, Eddie Bauer |
| 2004 | Ford | Explorer | NBX |
| 2000 - 2003 | Ford | Explorer | Postal |
| 1999 - 2003 | Ford | Explorer | Sport |
| 1999 | Ford | Explorer | XL |
| 2000 - 2001 | Ford | Explorer | XL Fleet |
| 1999 - 2006 | Ford | Explorer | XLS |
| 2010 | Ford | Explorer | XLT Base |
| 2004 - 2005 | Ford | Explorer | XLT Sport, XLS Sport |
| 2007 - 2010 | Ford | Explorer Sport Trac | Base, XLT, Limited |
| 1998 - 1999 | Ford | F-150 | Austera |
| 1997 - 2000 | Ford | F-150 | Base |
| 2007 - 2008 | Ford | F-150 | FX2 |
| 2004 - 2008 | Ford | F-150 | FX4, STX, Flotillera |
| 2000 - 2008 | Ford | F-150 | Harley-Davidson Edition |
| 2001 - 2008 | Ford | F-150 | King Ranch |
| 1997 - 2008 | Ford | F-150 | Lariat, XL, XLT |
| 1999 - 2003 | Ford | F-150 | Lightning |
| 2008 | Ford | F-150 | THE 60TH ANNIVERSARY EDITION, Limited, XTR |
| 2004 | Ford | F-150 Heritage | XLT, XL, SVT Lightning |
| 1998 | Ford | F-250 | 50th Anniversary Edition |
| 1997 - 1999 | Ford | F-250 | Base, XLT VIP, Lariat, XL, XLT |
| 2009 | Ford | F-250 Super Duty | Cabela's |
| 2008 - 2009 | Ford | F-250 Super Duty | FX4 |
| 2004 - 2009 | Ford | F-250 Super Duty | King Ranch, Harley-Davidson Edition |
| 1999 - 2009 | Ford | F-250 Super Duty | Lariat, XL, XLT |
| 2009 | Ford | F-350 Super Duty | Cabela's |
| 2008 - 2009 | Ford | F-350 Super Duty | FX4 |
| 2004 - 2009 | Ford | F-350 Super Duty | Harley-Davidson Edition |
| 2003 - 2009 | Ford | F-350 Super Duty | King Ranch |
| 1999 - 2009 | Ford | F-350 Super Duty | Lariat, XLT, XL |
| 2007 | Ford | Five Hundred | SEL, Limited |
| 2004 - 2007 | Ford | Freestar | LX Base, SE, LX Plus, Base, SEL, Limited |
| 2004 - 2005 | Ford | Freestar | SES, S |
| 2006 - 2007 | Ford | Freestar | Sport |
| 2005 | Ford | Freestyle | SE, Limited, SEL |
| 1997 - 2009 | Ford | Mustang | Base, GT |
| 1998 - 2003 | Ford | Mustang | Equipado |
| 2005 - 2007 | Ford | Mustang | GT Base |
| 2001 | Ford | Mustang | GT Bullitt |
| 2005 - 2009 | Ford | Mustang | GT Equipado |
| 1997 | Ford | Mustang | High, Cobra |
| 1998 | Ford | Mustang | Semi-Equipado |
| 2007 | Ford | Mustang | Shelby GT |
| 2007 - 2009 | Ford | Mustang | Shelby GT500, Lujo |
| 2009 | Ford | Mustang | Shelby GT500KR, Bullitt, Shelby |
| 1997 - 2003 | Ford | Mustang | SVT Cobra |
| 2003 | Ford | Mustang | SVT Cobra 10th Anniversary, Mach 1 |
| 2000 | Ford | Mustang | SVT Cobra R |
| 2008 - 2011 | Ford | Ranger | Base |
| 2001 - 2005 | Ford | Ranger | Edge |
| 2001 - 2002 | Ford | Ranger | EV |
| 2005 - 2009 | Ford | Ranger | FX4 |
| 2006 - 2010 | Ford | Ranger | Limited |
| 2002 | Ford | Ranger | Postal |
| 2002 - 2011 | Ford | Ranger | Sport |
| 2005 - 2007 | Ford | Ranger | STX |
| 2004 | Ford | Ranger | Tremor |
| 2001 - 2011 | Ford | Ranger | XL, XLT |
| 1996 - 1997 | Ford | Taurus | G, GL |
| 1996 - 2004 | Ford | Taurus | LX |
| 1998 - 2006 | Ford | Taurus | SE |
| 1998 - 2003 | Ford | Taurus | SE Comfort |
| 2000 - 2006 | Ford | Taurus | SEL |
| 2000 - 2004 | Ford | Taurus | SES |
| 1996 - 1999 | Ford | Taurus | SHO |
| 2000 | Ford | Taurus | SVG |
| 2008 - 2009 | Ford | Taurus X | SEL, Eddie Bauer, Limited |
| 2002 - 2003 | Ford | Thunderbird | Base |
| 2003 | Ford | Thunderbird | James Bond Edition |
| 2002 | Ford | Thunderbird | Neiman Marcus |
| 1999 | Ford | Windstar | 3.0L |
| 1999 - 2003 | Ford | Windstar | Base, SEL, LX, SE |
| 2000 - 2003 | Ford | Windstar | Limited |
| 1999 - 2002 | Ford | Windstar | LX Plus |
| 2001 - 2003 | Ford | Windstar | SE Sport |
| 2003 | Ford | Windstar | Sport |
| 2003 | Lincoln | Aviator | Base |
| 2002 | Lincoln | Blackwood | Base |
| 1998 - 2002 | Lincoln | Continental | Base |
| 1996 | Lincoln | Continental | Spinnaker Edition, Anniversary |
| 2000 - 2003 | Lincoln | LS | Base, Sport |
| 2001 - 2003 | Lincoln | LS | LSE |
| 2003 | Lincoln | LS | Premium Sport |
| 1996 | Lincoln | Mark VIII | Anniversary |
| 1996 - 1998 | Lincoln | Mark VIII | LSC, Base |
| 1998 - 2003 | Lincoln | Navigator | Base |
| 1996 | Lincoln | Town Car | Anniversary |
| 1996 - 2003 | Lincoln | Town Car | Base, Cartier |
| 2001 - 2003 | Lincoln | Town Car | Cartier L |
| 2007 | Lincoln | Town Car | Designer |
| 2006 - 2007 | Lincoln | Town Car | Designer Series |
| 1996 - 2009 | Lincoln | Town Car | Executive |
| 2001 - 2009 | Lincoln | Town Car | Executive L |
| 2003 | Lincoln | Town Car | Executive Protection Series |
| 2004 - 2006 | Lincoln | Town Car | Protection Series |
| 1996 - 2007 | Lincoln | Town Car | Signature |
| 2005 - 2009 | Lincoln | Town Car | Signature L, Signature Limited |
| 1997 | Lincoln | Town Car | Touring Edition |
| 2004 | Lincoln | Town Car | Ultimate, Ultimate L |
| 1996 | Mercury | Cougar | XR-7 |
| 1996 - 2006 | Mercury | Grand Marquis | LS, GS |
| 2003 | Mercury | Grand Marquis | LSE |
| 2005 | Mercury | Montego | Base, Premier |
| 2002 - 2005 | Mercury | Mountaineer | Base |
| 2005 | Mercury | Mountaineer | Convenience |
| 2004 - 2005 | Mercury | Mountaineer | Premier |
| 2009 | Mercury | Sable | Base, Premier |
| 1996 | Mercury | Sable | G |
| 1998 - 2003 | Mercury | Sable | LS Premium |
| 1996 - 2005 | Mercury | Sable | LS, GS |
| 2005 | Mercury | Sable | Platinum Edition |