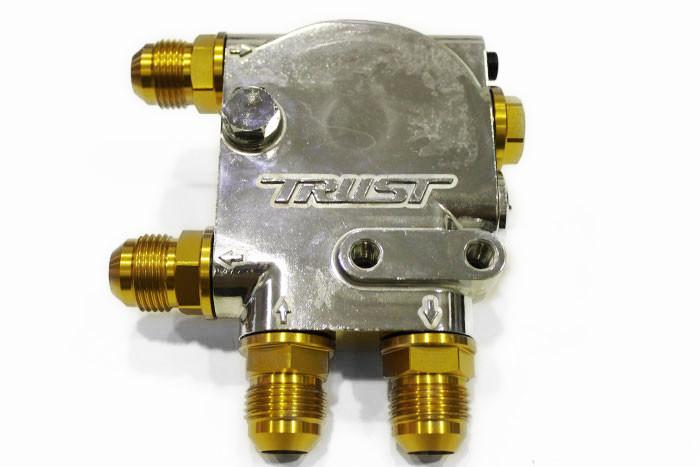 Greddy Oil Cooler Filter Block Adapter Type-I - Remote Filter
3/4-16UNF Type I Oil Filter Relocation Block
SKU: 05WQ9 | MPN: 12401114
---
12401114
Universal Remote Oil Filter Oil Block (Type I) AN10 for 3/4x16UNF Filter
12401182
Universal Remote Oil Filter Oil Block (Type I) AN10 for M20xP1.5 Filter
GReddy Universal Remote Oil Filter Oil Block Type I with AN -10 Fittings. With built-in GReddy Thermostat. (70-80 C) for 3/4x16UNF filters
*Ideal for custom Oil Cooler Kits with oil filter relocation.
* Must use GReddy Sized Oil Filters : QX-01 P/N 13901101 or QX-03 P/N 13901103 (3/4"x16UNF) or AE86 - 4AG sized Oil Filter.

- Ideally to used with -10 AN Oil Block Adapter to engine without thermostat :
Type- B: M20 x P1.5 - P/N 12401129 or 3/4 x 16UNF - P/N 12401111 (sold separately) or
Type-F: M20 x P1.5 - P/N 12401131 or 3/4 x 16UNF - P/N 12401135 (sold separately)

Use P/N 16400721 for 1/8PT ports to use with Pressure & Temperature Sensors
Replacement Parts for Type-I Oil Block (HERE)
Vehicle Fitments:
| Year | Make | Model | Submodel |
| --- | --- | --- | --- |
| 2011 - 2014 | Mitsubishi | Lancer | ES Sportback |
| 2008 - 2015 | Mitsubishi | Lancer | ES, GTS, Evolution MR, Evolution GSR, DE |
| 2015 | Mitsubishi | Lancer | Evolution Final Edition, SE Limited Edition Sportback, SE Limited Edition |
| 2009 | Mitsubishi | Lancer | Evolution RS, Special Edition |
| 2010 | Mitsubishi | Lancer | Evolution SE |
| 2011 - 2015 | Mitsubishi | Lancer | GT Sportback, GT, SE Sportback |
| 2010 - 2011 | Mitsubishi | Lancer | GTS Sportback, Evolution MR Touring, Ralliart Sportback |
| 2014 | Mitsubishi | Lancer | Limited Edition, Evolution |
| 2009 - 2015 | Mitsubishi | Lancer | Ralliart, SE |