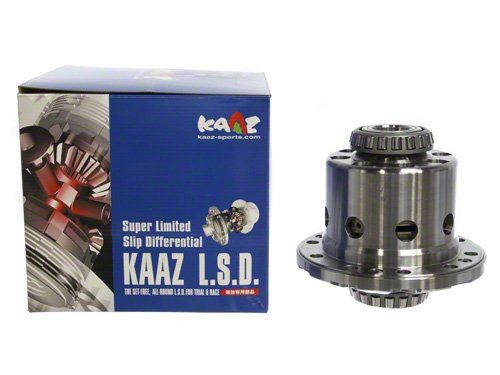 KAAZ Super Q 1.5 WAY LSD 89-98 S13 S14 240SX OPEN
SKU: 07QMC | MPN: SBN2655SQ
---
Introducing the latest LSD from Kaaz, the Super Q. This new LSD is the ultimate performance in clutch type differential. The Super Q evolved from the same technology and design that made the original Kaaz LSDs so popular. The Super Q combines the ultimate performance with street driving in mind. It features large clutch discs with lightning fast reaction and best locking ratios. Every part inside including the clutch discs feature special treatment that will provide minimal chattering, smoother engagement, and longer wear life. The Super Q will no longer require the break-in procedure like the previous LSDs.
FEATURES:
MINIMAL CHATTERING OPERATION

A key element in making the SUPERQ L.S.D. unique is: chattering sounds are down to a bare minimal! This makes the unit much more street and everyday friendly, AT HALF THE COST OF OTHER MORE EXPENSIVE "CARBON" L.S.D's!

SMOOTHER ENGAGEMENT / OVERALL OPERATION

Experience smoother engagement during driving! SuperQ units are designed to provide more comfortability without compromising performance characteristics. This new feature is available now due to new internal metal treatments processed before final assembly!

IMPROVED HEAT DISSIPATION

All SuperQ units have improved heat dissipation over standard LSD's. With special internal surface treatments the new SuperQ LSD offer's significant drop in operating temperatures when compared to standard metal type LSD's.

LONGER WEAR LIFE

Typically overhauls are recommended for race cars frequently however the SuperQ L.S.D. has a typical longer life-wear than standard  mechanical L.S.D's. If changing differential oil responsibly the new SuperQ units have a average extended 20-50% more life expectancy! Whether it be usage on a full race or street applied vehicle, this new unit will outlast any standard metal type L.S.D!

NO BREAK-IN PROCEDURES

No need to break in your unit after installation! Another key feature for those whom install and work from home. SuperQ units have special treated clutch plates which feature smooth hardened clutch plate surfaces which require no break-in procedures!

MODIFIED ADJUSTABILITY AND SETUP

As standard to all KAAZ Limited Slip Differentials you can adjust locking raties to your desired spec. The SuperQ units carry same revolutionary adjustment setting options that come standard on most KAAZ Limited Slip Differentials! Optional parts are available as well, you can purchase thicker cone-springs and clutch plates to adjust initial torque specs.
1.5 WAY OR 2 WAY?
1.5WAY configurations tend to be the most popular cam for road racing and tight auto crossing course as it lets you obtain 100% acceleration locking and 50% deceleration locking, a must need for tight low speed turns! However aggressive driving styled users prefer 2 way configuration as 100% locking is featured both on acceleration and deceleration allowing later breaking and stability at higher turning speeds.

If using for street or daily driving usage, 60%-80% locking engagement is ideal for this type of usage, if vehicle is used for weekend competitions or "sporty driving" then full 100% engagement is suggested to uncompromising performance characteristics.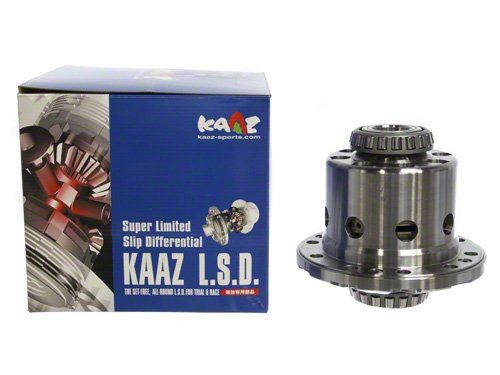 This product is rated 5.0 of 5.0 stars.
It has received 1 review.