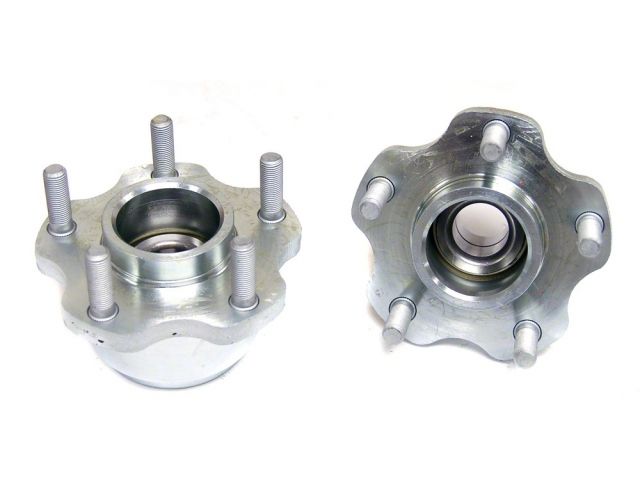 Ichiba Front 5 Lug Hub Conversion - Nissan S13 240SX 89-94
SKU: 07291 | MPN: NS-20010
---
Ichiba Front 5 Lug Hub Conversion - Nissan S13 240SX 89-94
A popular upgrade for S13 who are still using 4 lugs. Drivers can broaden their choice of wheels and brake options by swapping for Ichiba Hub Conversion Kit since most wheels with good offsets are 5 lugs. Ichiba is well known in the car community for providing one of the best hubs on the market by using OEM bearings, factory length studs, and highest quality materials ensuring best fitment and durability. Each hub are quality checked and tested up to 200*F degrees for the most extreme applications including drifting, autox, and drag racing.
**14.3mm Knurl size used for studs**
This is for the 2 Front 5 Lug Hubs ONLY!
Vehicle Fitments:
| Year | Make | Model | Submodel |
| --- | --- | --- | --- |
| 1997 - 1998 | Nissan | 180SX | Type-G |
| 1989 - 1995 | Nissan | 180SX | Type-I, Type-II |
| 1992 - 1994 | Nissan | 180SX | Type-III |
| 1994 - 1998 | Nissan | 180SX | Type-R, Type-X |
| 1996 - 1998 | Nissan | 180SX | Type-S |
| 1989 - 1993 | Nissan | 240SX | Base |
| 1991 - 1992 | Nissan | 240SX | LE |
| 1989 - 1994 | Nissan | 240SX | SE |
| 1989 - 1990 | Nissan | 240SX | XE |
| 1989 - 1991 | Nissan | Silvia | Convertible |
| 1989 - 1994 | Nissan | Silvia | J's, K's, Q's |