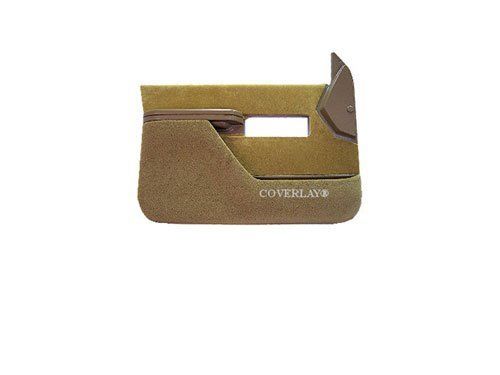 Coverlay Door Panel Pair 90-94 Chevy Silverado Maroon
SKU: 0HJ3B | MPN: 18-37N-MR
---
Images used may be generic. Actual product may vary.
Replacement Door Panel Pair 90-94 Chevrolet Silverado GMC Sierra Maroon 2 Door, No Power Only, Padded Armrest, Weather Stripping, Upholstered, New Mounting Fasteners
Replacement Door Panels by Coverlay. Add value and style to your vehicle's interior by replacing those cracked and faded door panels easily and inexpensively. Made of tough plastic, the replacement part will not crack or split even under extreme conditions and will work efficiently no matter what.
Please contact us a call if you have any questions about availability.
Vehicle Fitments:
| Year | Make | Model | Submodel |
| --- | --- | --- | --- |
| 1994 | Chevrolet | Blazer | Base, Silverado Sport |
| 1992 - 1993 | Chevrolet | Blazer | Cheyenne |
| 1992 - 1994 | Chevrolet | Blazer | Silverado, Nevada |
| 1990 - 1993 | Chevrolet | C1500 | 454 SS |
| 1990 - 1992 | Chevrolet | C1500 | Scottsdale |
| 1990 - 1994 | Chevrolet | C1500 | WT, Silverado, Cheyenne, Base |
| 1992 - 1994 | Chevrolet | C1500 Suburban | Silverado, Base |
| 1993 | Chevrolet | C2500 | 400 SS, Custom |
| 1990 - 1994 | Chevrolet | C2500 | Cheyenne, Silverado, Base |
| 1990 - 1992 | Chevrolet | C2500 | Scottsdale |
| 1994 | Chevrolet | C2500 | WT |
| 1992 - 1994 | Chevrolet | C2500 Suburban | Base, Silverado |
| 1994 | Chevrolet | C3500 | Base |
| 1990 - 1992 | Chevrolet | C3500 | Scottsdale |
| 1990 - 1994 | Chevrolet | C3500 | Silverado, Cheyenne |
| 1994 | Chevrolet | K1500 | Base |
| 1990 - 1994 | Chevrolet | K1500 | Cheyenne, WT, Silverado |
| 1990 - 1992 | Chevrolet | K1500 | Scottsdale |
| 1991 | Chevrolet | K1500 | Sport |
| 1992 - 1994 | Chevrolet | K1500 Suburban | Silverado, Base |
| 1994 | Chevrolet | K2500 | Base, WT |
| 1990 - 1994 | Chevrolet | K2500 | Cheyenne, Silverado |
| 1990 - 1992 | Chevrolet | K2500 | Scottsdale |
| 1992 - 1994 | Chevrolet | K2500 Suburban | Base, Silverado |
| 1994 | Chevrolet | K3500 | Base |
| 1990 - 1992 | Chevrolet | K3500 | Scottsdale |
| 1990 - 1994 | Chevrolet | K3500 | Silverado, Cheyenne |
| 1994 | GMC | C1500 | Sierra SL, Sierra SLT, Sierra Special |
| 1990 - 1994 | GMC | C1500 | Sierra SLE |
| 1990 - 1993 | GMC | C1500 | Sierra SLX, Sierra |
| 1992 - 1994 | GMC | C1500 Suburban | SLE, Base |
| 1990 - 1994 | GMC | C2500 | Sierra SLE |
| 1994 | GMC | C2500 | Sierra SLT, Sierra SL |
| 1990 - 1993 | GMC | C2500 | Sierra SLX, Sierra |
| 1992 - 1994 | GMC | C2500 Suburban | Base, SLE |
| 1990 - 1994 | GMC | C3500 | Sierra SLE |
| 1994 | GMC | C3500 | Sierra SLT, Sierra SL |
| 1990 - 1993 | GMC | C3500 | Sierra, Sierra SLX |
| 1990 - 1994 | GMC | K1500 | Sierra SLE |
| 1994 | GMC | K1500 | Sierra Special, Sierra SLT, Sierra SL |
| 1993 | GMC | K1500 | Sierra Sport |
| 1990 - 1993 | GMC | K1500 | Sierra, Sierra SLX |
| 1992 - 1994 | GMC | K1500 Suburban | Base, SLE |
| 1994 | GMC | K2500 | Sierra SL, Sierra SLT |
| 1990 - 1994 | GMC | K2500 | Sierra SLE |
| 1990 - 1993 | GMC | K2500 | Sierra SLX, Sierra |
| 1992 - 1994 | GMC | K2500 Suburban | Base, SLE |
| 1994 | GMC | K3500 | Sierra SL, Sierra SLT |
| 1990 - 1994 | GMC | K3500 | Sierra SLE |
| 1990 - 1993 | GMC | K3500 | Sierra, Sierra SLX |