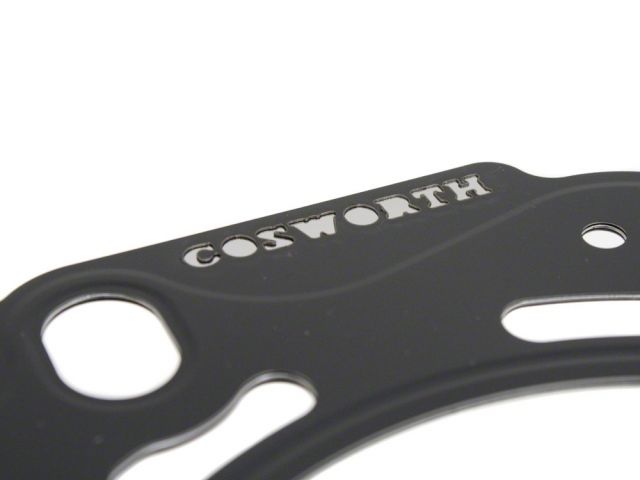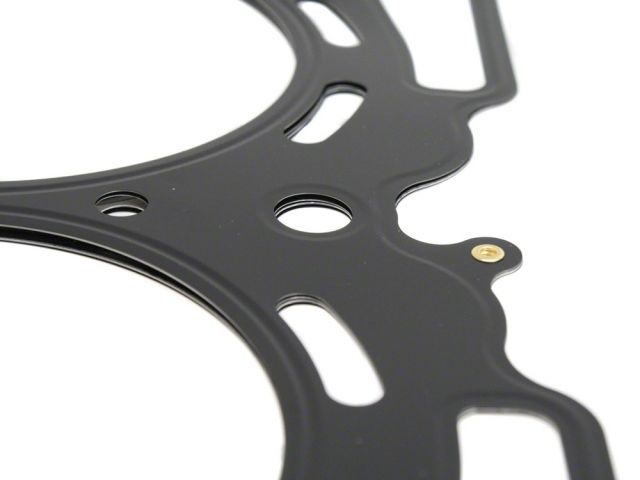 Cosworth Metal Head gasket Subaru STI EJ25 101mm 1.1mm Thick
SKU: 0575Y | MPN: 20000916
---
Cosworth 20000916 Metal Head gasket Subaru STI EJ25 101mm 1.1mm Thick
Cosworth Subaru STI EJ25 metal head gasket is a high performance gasket designed to seal under high power under the most demanding conditions.  Cosworth's Subaru STI EJ25 head gasket is available in 101mm bore with a variety of thicknesses.  Each Cosworth Subaru STI EJ25 headgasket features: 
Individual die cut layers of stainless steel with superior consistency compared to laser cut gaskets.
Pre-coated stainless steel with a 0.25 micron layer of nitrile rubber ensures consistent distribution of coating with no high or low areas.
Manufacturing dimensional tolerance of 0.002".
Die cut manufacturing process ensures smooth edges, unlike laser cut gaskets.
Cosworth gaskets feature a "stopper" sealing layer for additional torque around each cylinder. The width of sealing area is specific for each application thereby providing ultimate sealing properties.
Available in a range of thicknesses for specific applications.
 * Sold individually, need to order 2 for a complete set*
Vehicle Fitments:
| Year | Make | Model | Submodel |
| --- | --- | --- | --- |
| 2006 | Saab | 9-2X | 2.5i, Aero |
| 2004 - 2006 | Subaru | Baja | Turbo, Sport |
| 2008 | Subaru | Forester | 2.5 XS, Sports 2.5 X, 2.5 X, 2.5 XT, 2.5 XS Premium, Anniversary Edition, Sports 2.5 XT |
| 2004 - 2013 | Subaru | Forester | X |
| 2013 | Subaru | Forester | X Convenience |
| 2006 - 2008 | Subaru | Forester | X L.L. Bean Edition |
| 2009 - 2013 | Subaru | Forester | X Premium, X Limited, X Touring |
| 2004 - 2012 | Subaru | Forester | XS |
| 2005 | Subaru | Forester | XS L.L. Bean Edition |
| 2007 - 2012 | Subaru | Forester | XSL |
| 2004 - 2009 | Subaru | Forester | XT |
| 2006 - 2013 | Subaru | Forester | XT Limited |
| 2005 - 2013 | Subaru | Forester | XT Premium |
| 2010 - 2012 | Subaru | Forester | XT Sports |
| 2011 - 2013 | Subaru | Forester | XT Touring |
| 2008 | Subaru | Impreza | 2.0R |
| 2009 - 2010 | Subaru | Impreza | 2.5 GT |
| 2006 - 2011 | Subaru | Impreza | 2.5i |
| 2010 - 2011 | Subaru | Impreza | 2.5i Premium |
| 2014 | Subaru | Impreza | I Limited |
| 2013 - 2014 | Subaru | Impreza | i, I Sport |
| 2012 - 2014 | Subaru | Impreza | Limited, Touring, Sport Premium, Sport Limited, Premium, Base |
| 2005 - 2011 | Subaru | Impreza | Outback Sport |
| 2009 - 2012 | Subaru | Impreza | R |
| 2004 - 2005 | Subaru | Impreza | RS |
| 2008 - 2014 | Subaru | Impreza | Sport |
| 2004 | Subaru | Impreza | TS, Outback |
| 2006 - 2014 | Subaru | Impreza | WRX Limited |
| 2009 - 2014 | Subaru | Impreza | WRX Premium |
| 2010 | Subaru | Impreza | WRX SE, WRX GT, WRX STI Special Edition, 2.5i Limited |
| 2007 - 2014 | Subaru | Impreza | WRX STI Limited |
| 2006 - 2007 | Subaru | Impreza | WRX TR |
| 2004 - 2014 | Subaru | Impreza | WRX, WRX STI |
| 2011 | Subaru | Impreza | XV |
| 2006 - 2012 | Subaru | Legacy | 2.5i Limited, 2.5i |
| 2007 - 2009 | Subaru | Legacy | 2.5i Special Edition |
| 2008 - 2009 | Subaru | Legacy | 3.0 R Limited |
| 2009 | Subaru | Legacy | 3.0 R, 2.0R, 3.0 R Premier |
| 2010 - 2012 | Subaru | Legacy | 3.6R Limited, Sport, 3.6R, 3.6R Premium, 2.5GT, 2.5i Premium |
| 2009 - 2012 | Subaru | Legacy | Base, 2.5i Touring |
| 2005 - 2012 | Subaru | Legacy | GT |
| 2005 - 2009 | Subaru | Legacy | GT Limited |
| 2006 - 2009 | Subaru | Legacy | GT spec.B |
| 2005 | Subaru | Legacy | i |
| 2005 - 2008 | Subaru | Legacy | Limited |
| 2008 | Subaru | Legacy | Touring, 3.0, 2.0 |
| 2007 | Subaru | Outback | 2.5i Basic |
| 2006 - 2009 | Subaru | Outback | 2.5i, 2.5i Limited |
| 2009 | Subaru | Outback | 3.0 R Premier, 2.5i Special Edition, 3.0 R Limited |
| 2005 | Subaru | Outback | i, VDC Limited |
| 2005 - 2006 | Subaru | Outback | R |
| 2005 - 2008 | Subaru | Outback | R L.L. Bean Edition, Limited, XT |
| 2006 | Subaru | Outback | R VDC Limited |
| 2008 | Subaru | Outback | Touring, 2.5 XT, 2.5i Limited L.L. Bean Edition, 3.0 R, 2.5i L.L. Bean Edition, Premier, Base |
| 2005 - 2009 | Subaru | Outback | XT Limited |