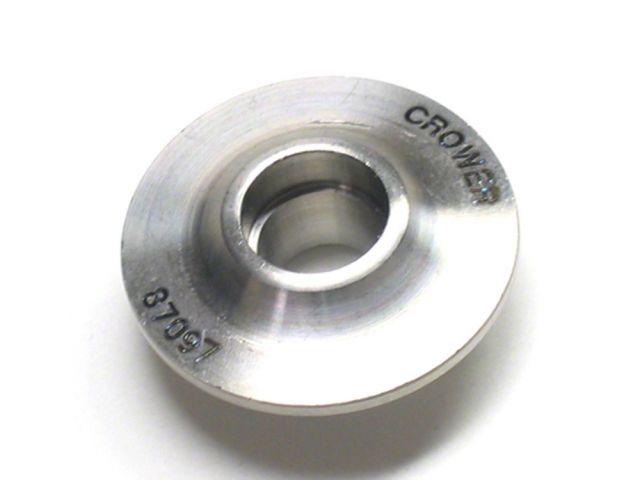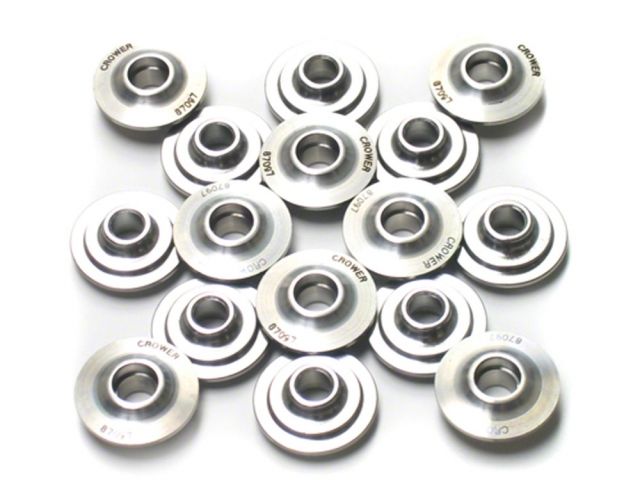 Crower Titanium Valve Retainers Kit SR20DET
SKU: 07ED0 | MPN: 87097
---
Crower Titanium Retainer Kit is now available for the Nissan SR20DET motor. These tianium retainers feature 50% less weight than stock retainers for much faster revving valvetrain. The special T-17 Titanium material used to manufacture these retainers are 8-10 pts harder than other manfucaturer's comparable "titanium" retainers. More durable and stronger retainer will mean added longevity and engine valvetrain reliability at higher rpm under extreme conditions. For those who want to upgrade their SR valvetrain for more durable higher revving top end.

We suggest doing the following upgrades at the same time.
Upgrade to high quality intake/exhaust cams for better performance.
Upgrade to aftermarket valve springs to match the your cams.
Upgrade to rocker arm stopper [RAS] to control valve float at high rpm.
Replace valve guides, valve stem seals for better compression seal.
Vehicle Fitments:
| Year | Make | Model | Submodel |
| --- | --- | --- | --- |
| 1997 - 1998 | Nissan | 180SX | Type-G |
| 1989 - 1995 | Nissan | 180SX | Type-I, Type-II |
| 1992 - 1994 | Nissan | 180SX | Type-III |
| 1996 - 1998 | Nissan | 180SX | Type-S |
| 1994 - 1998 | Nissan | 180SX | Type-X, Type-R |
| 1989 - 1998 | Nissan | 240SX | Base, SE |
| 1991 - 1998 | Nissan | 240SX | LE |
| 1989 - 1990 | Nissan | 240SX | XE |
| 1991 - 1993 | Nissan | NX | SE, XE |
| 1993 - 1998 | Nissan | Sentra | Base |
| 2001 | Nissan | Sentra | CA |
| 1991 - 1993 | Nissan | Sentra | Classic |
| 1998 | Nissan | Sentra | GLE |
| 1998 - 2000 | Nissan | Sentra | GST, GSS, GSX |
| 1991 - 2001 | Nissan | Sentra | GXE, XE, SE |
| 1994 | Nissan | Sentra | Limited Edition |
| 1991 - 1994 | Nissan | Sentra | SE-R, E |
| 1999 - 2000 | Nissan | Silvia | Autech |
| 1989 - 1991 | Nissan | Silvia | Convertible |
| 1989 - 1998 | Nissan | Silvia | Q's, J's, K's |
| 1999 - 2002 | Nissan | Silvia | Spec R, Spec S |
| 2002 | Nissan | Silvia | Spec S / V Package, Spec R / V Package |
| 2000 - 2002 | Nissan | Silvia | Varietta |